05 Dec

5 Aveda Aromas to get you ready for the Holidays!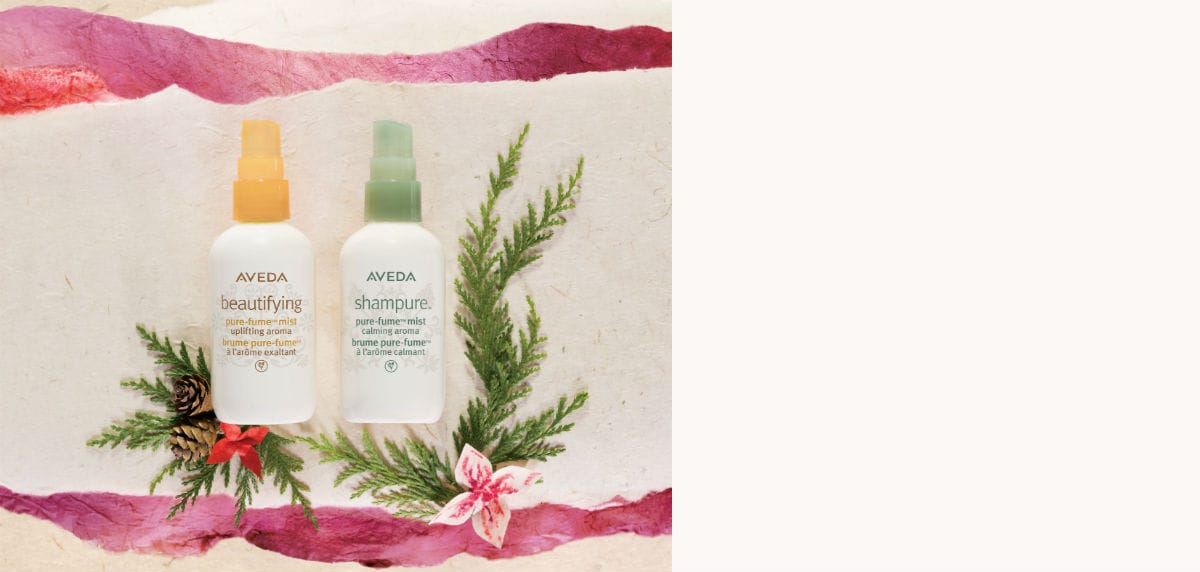 5 AVEDA AROMAS
TO GET YOU IN
THE HOLIDAY SPIRIT
A LOOK AT WHAT GOES INTO
OUR SEASONAL AROMAS
WITH HEAD OF AVEDA PURE-FUME AROMA,
GUY VINCENT
There's much more that goes into creating an Aveda aroma than you might think. Because we use plant-derived ingredients, our perfumers have a much narrower palette to work with than conventional perfumers. At Aveda we have about 200 plant-derived aroma ingredients while a conventional perfumer has about 3,000 possibilities. We strive for functionality as well as beautiful aromas. This means that the aromas must complement the benefits of our products. For example, the aroma in our Stress-Fix™ collection has been proven to reduce the feelings of stress. "Aromas should stimulate emotions connecting with each user on a deeper level," says Guy.
To get you in a holiday mood, we asked Guy to sniff and tell. Here's a glimpse into his work on the aromas featured in some of our gift sets
The Candrimā™ aroma is meant to evoke sipping a warm, spiced beverage by a cozy fire. "I wanted to create something that was nostalgic and comforting, yet with an edge and, of course, fused with Ayurvedic properties—so the result is an oriental with ginger, cinnamon and vanilla," says Guy.
The Beautifying aroma is one of our most popular and it really has a freshness that resonates with guests. "The vitality comes from the fusing of lavender and bergamot," says Guy. "Lavender gives a lovely fullness to the aroma while bergamot grounds it with an herbal quality.
The Shampure aroma has 25 pure flower and plant essences, which give it a full floral experience that really imparts a calming quality guests crave. "It has a real prettiness to it," says Guy
The Rosemary Mint aroma awakens the senses with an invigorating aroma of certified organic rosemary and peppermint with other pure flower and plant essences.
The Aveda Men Pure-Formance aroma is earthy, rich, and woody. "It's really more of a unisex aroma that evokes the beauty of nature," says Guy.
We Love these Aveda Aroma's.  That's the thing about Aveda, it Smells SOOO Good!  #SMELLSLIKEAVEDA
Come in and experience these aroma's for the holidays!  They make great gifts for everyone!